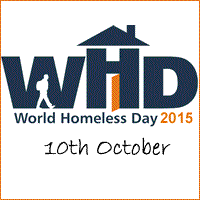 I've already mentioned that I'm collaborating with many other activists and contributors on World Homeless Day, coming to a city near you on 10/10/10.  One of the main organizers is a good friend of mine in Ireland and yes, I will be posting an interview with him eventually, but it's looking like it'll be pushed back a couple of weeks since he's been so incredibly busy – representatives have been joining up from many countries globally, as well as representatives from nearly every U.S. state so far!  You can find more info at:
http://www.worldhomelessday.org/
http://www.facebook.com/group.php?gid=252124162444
There is fantastic news from Jim Niffen, a WHD rep in Kansas City, MO.  He just found out that at 10 a.m. on 10/10/10, to commemorate the first annual WHD, the city mayor will be present at the launch of a new donated facility Jim will be running – 47,000 square feet housing a clinic, several local agencies, barber shop and salon, computer lab, and donated clothing shops for homeless men and women.  The facility will cater to between 1,000-1,200 homeless people per day.  Think of the difference that will make for so many down-on-their-luck people in that metropolitan area alone.
Congratulations to Jim and Hope Faith Ministries (anybody in the KCMO area interested in helping out can contact them here), and thanks to Jon Glackin/Dominic Mapstone and associates for coming up with the WHD concept and putting it into practice.  All of your tireless organizing is really paying off – believe me folks, the Kansas City facility is only one of several amazing results so far of the campaign (and there's still 6 months to go yet)!  A lot of very noteworthy and influential people are coming on board the project and this is helping to increase exposure greatly for the issue.  The amount of work these guys are putting in is incredible; I don't know when they sleep!
* * * * *
On a slight tangent, this really has nothing to do with homelessness, but it does have to do with civil rights issues in general, specifically one that affects several friends and a family member of mine:
The Lutheran church has voted without dissent to abolish all anti-gay policies, effective immediately. All members and their families – lesbian, gay, bisexual, transgender, and queer – are now considered absolutely equal in the eyes of the church and of their god, and are even allowed to serve as church leaders.  This is progressive.  I'm not Lutheran (or any religion), but regardless of whether I ascribe to any religious position or not, this is something I can get behind, and think all churches should get behind.  We can only hope.  This is an example of people of faith adhering to the spirit of what they preach, showing true love for their members without judgment, hypocrisy, or discrimination.
I'm a fan of that in any forum.