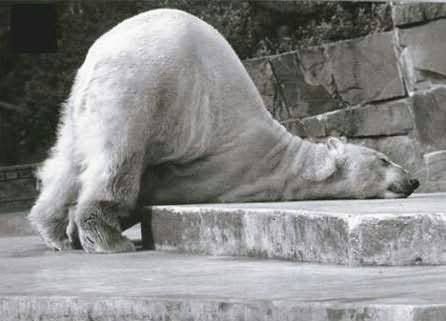 So things are pretty slow here.  Book is finished but I'm waiting on them to get through the usual string of legal procedures 'n all that jazz.  I guess none of the exciting stuff starts until after that.  I'm feeling mighty tired of late, even when I don't have any reason to be, and I'm starting to wonder if perhaps I have the hypoglycemia that runs in my family (both my mother and sister have been diagnosed with it, and my grandfather has diabetes).  I feel more exhausted than I've ever felt in my life, just completely sapped of energy.  I want to get checked out for it but have to wait until I can afford health insurance, yay.
Some interesting articles I've come across that pertain to homelessness either directly or tangentially:
Some companies openly admit to ignoring all résumés from unemployed candidates, effectively discriminating against those who have, for instance, been laid off due to no fault of their own.  Or any other reason – and there are dozens of legitimate reasons to be unemployed.  Hell, the long-term unemployed (6 months or longer) have surged to 46% of unemployed individuals during the recession; the highest percentage EVER on record (records date all the way back to 1948).
This isn't normal.  These people need jobs.  And the hiring companies are rubbing it in their face that they won't even be considered. Many are including it in the job description advertisements:  "Client will not consider/review anyone NOT currently employed regardless of the reason."  It doesn't matter how skilled or qualified you are, you will be discriminated against on the basis of employment status.  One HR representative interviewed in the article is quoted:  "It's our preference that they currently be employed…We typically go after people that are happy where they are and then tell them about the opportunities here.
So companies would rather go poaching employees from other companies, employees who are happy where they are, than dip into the masses of qualified unemployed who need to work in order to feed their family, to keep their house.  Yet, I bet these same companies are shaking their heads, tsk tsk-ing about the recession, what a massive effect it's had on America, and when will it all just end already?  When will the economy right itself?  For shame.  They're such a huge part of the problem.
I'm shocked that there aren't laws against this type of discrimination.  Prepare yourself for an increasing number of phony résumés, employers.  That's all that you're really accomplishing here.  Hell, if I were unemployed and my only shot at a job that I was fully qualified for was "stretching the truth" and saying that I currently had a job…would I lie?  I'm not going to say I wouldn't.  Desperation can do that to a person.  I don't advocate lying, but I can't say that I would judge any desperate, qualified individual who can work and wants to work, but is being discriminated against due to circumstances beyond his or her control.  It's disgusting.
On a brighter note, New York City has abandoned its widely-decried plan to charge working homeless people rent for shelter services.  So, that's something.  Instead, shelter beneficiaries with jobs will be required to set aside a percentage of their earnings every month in a savings account that they will have access to once they leave the shelter system.  This will provide them with accrued savings in the bank once they transition into permanent housing.  It's still not perfect, but it's quite a big step, and I like the initiative.
And now for my shameless plug:  I have to sell my engagement ring, and my ex-fiancé's engagement ring as well.  I'm very conflicted about it, but better that I get it over with.  Out of sight, out of mind, right?  Besides, I could always use the money, of course.  So, if anybody out there is interested in antique jewelry, or in engagement rings in particular, please feel free to consider mine – I've linked to the eBay listings.  If you're a serious buyer, please also feel free to email any questions to me at info@girlsguidetohomelessness.com.
The female engagement ring is a French, platinum/gold diamond ring circa 1899-1900, the turn of the century (and the time and setting of Moulin Rouge, one of my favorite movies!)  The year in which it was crafted straddles three of my favorite time periods – the Victorian, Edwardian, and Art Nouveau eras.  It features a center diamond entwined by softly curving diamond-set "vines" that are an excellent example of early Art Nouveau style, which would morph later that decade into the characteristic "whiplash" curves that we think of today.  You can tell that I just love this stuff, don't you?  Antique style really speaks to my heart, especially Art Nouveau, which is highly derivative of nature and feminity.  The pictures aren't the greatest, but that's because I've got a crap camera.  For serious buyers, I can attempt to take a video of the ring, which might not be a great deal better, but at least should do a clearer job of capturing the fire of the diamonds.
The man's ring I haven't yet listed, but it will probably go up tonight or tomorrow.  I'll update here once photos are posted and link to the listing.  It is a large Georgian signet ring made of bloodstone (dark green stone with flecks of red), circa 1820-1830.  It's set in gold and framed by two serpents twined into infinity symbols.  Serpents were Georgian era symbols of love, commitment, fertility, and wisdom.  Bloodstone is known as the "stone of courage" and supposedly revitalizes love, relationships, and friendships.  The stone was also used in healing and protection by the ancient Egyptians, Aztecs, and Greeks.  I don't particularly believe in any of the new-agey or spiritual stuff, obviously, but it's fascinating history nonetheless, and that's what I love the most.
Sooooo…yeah.  Also, both rings will be heavily featured in the book coming out next Fall, so if your future intended is of a literary bent and wants to brag that he or she owns a ring from a book, well, now's your chance.  Otherwise, it's just a fantastic ring for history buffs and antique/vintage lovers.  If one of my blog readers purchases it, let me know and I'll even throw in a free signed copy of the book when it comes out!
OK, shameless plug over.  Now back to your regularly scheduled broadcasting.