So, my trailer has been towed, along with all of my belongings in it, despite the fact that I ostensibly *had permission* to park there as long as I wanted from Walmart's general manager.  This permission was obtained both over the phone and in person.
In the time that I have parked my trailer at Walmart, I have been quiet, courteous, polite, and kept to myself.  I have not littered, I have not bothered customers.  I have gone to work daily, and with my earnings I have bought products from Walmart nearly on a daily basis.  I have purchased food and supplies from Walmart.  I have cashed my payroll checks (for a fee) at Walmart.  I have a Walmart debit card, which I reload (also for a fee) with MoneyPaks purchased at, yes, Walmart.
On my blog I have previously praised Walmart for their kindness to the homeless, in these rough times where there are so many of them, and the prevailing attitude is "you have to go somewhere else, I don't know where you're allowed to go, but you can't stay here".  I have praised what I assumed was the carrying on of the humanitarian spirit of Sam Walton, the founder of Walmart.  Sam Walton was well known as a philanthropic individual, and one who made his parking lots available to nomads and travelers in campers.  I was thrilled to see that, whatever other negative press or controversy Walmart might inspire, they were at least providing a very noble service to the homeless, who have overwhelmingly attempted to repay them by patronizing their stores.
So imagine my surprise and frustration when I arrived at Walmart only to find my truck and trailer gone.  I frantically called the police department and was redirected to city towing.  The dispatcher who answered the phone informed me that it was the weekend and nobody could help me until Monday.  Upon calling back today, I was told that it will now cost in the vicinity of $1K to pick up the truck and trailer (they are counting them as two separate vehicles).  In addition, I am being charged an additional $80 per day that they are not picked up, for the both of them.  Apparently, there is also a $70 DMV lien placed on each vehicle when they haven't been picked up in 72 hours, so I will have to pay that too upon pickup, despite the fact that I attempted to call over the weekend but was told there was nothing that can be done.
I have contacted Steve Binder of San Diego Homeless Court, hoping that he can point me to some resources in Orange County that can help me.  I will also be contacting Walmart HQ to see how much responsibility they plan on accepting in this matter, as I had previously explained my situation to them and been permitted to park in their lot.  I hate giving negative press to anyone, but I will definitely make a fuss about this – this is my shelter, these are my belongings.  My books.  My clothes.  My dishes and glassware (which are likely smashed to pieces now, as the trailer was not prepared to be moved and I had not tied down my boxes).
It is a sad day when a business which is the last resort for so many homeless people is willing to alienate those who have been loyal customers for years by having their life stolen from them.  Stolen only to be retrieved via a fee of hundreds or thousands of dollars that (hello!) they obviously don't have.
So, Wally World, see this big middle finger I'm extending?  That's for you, unless you fix the immense damage you have done to my life and my property.  If Sam Walton could see Walmart corporate today, he'd be ashamed and disgusted.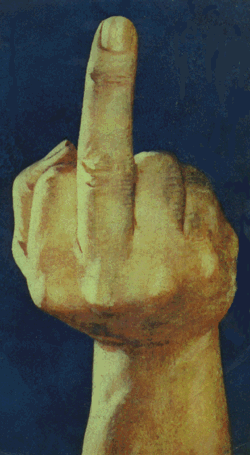 (P.S. Yes, mom, I used the horrific "f u" hand gesture.  Yes, we know, I'm a Satanic apostate and Jehoover will strike me dead, blah blegh blargh blah.  Get over it).